1. The English Patient by Michael Ondaatje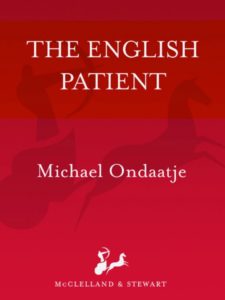 The English Patient is a 1992 novel by Michael Ontaatje which won both the Booker Prize and the Governor General's Award. It was adapted into a 1996 film, which received nine Academy Awards, including Best Picture and Best Director at the 69th Academy Awards.
The narrative structure of The English Patient moves continually between past and present, between the burned English patient's memories from before his accident and current events. It also moves between each of the main characters' points of view.
Hana is a young nurse, gardening in an Italian villa in 1945. The Germans left bombs and mines buried everywhere, and many nurses and patients have fled to safer places, but Hana stays. Her patient was found in the wreckage of a plane crash, and his whole body is burned beyond recognition. A Bedouin tribe found and cared for him, returning him to a British camp in 1944; he is very grateful. Hana assumes he is English and often reads to him. She also gardens and plays hopscotch. Sometimes she reads the book he carried with him, a copy of Herodotus' The Histories.
2. War And Peace by Leo Tolstoy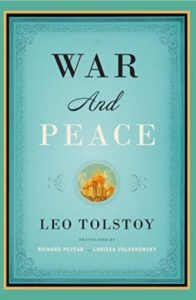 War and Peace begins in the Russian city of St. Petersburg in 1805, as fear of Napoleon's ongoing war making begins to set in. Most of the characters are introduced at a party, including Pierre Bezukhov, Andrey Bolkonsky, and the Kuragin and Rostov families. Much of the novel focuses on the interactions between the Bezukhovs, Bolkonskys, and the Rostovs. After their introduction, Andrey Bolkonsky and Nikolay Rostov go to the Austrian front under General Kutuzov, a fictional representation of Mikhail Kutuzov, to engage with Napoleon's troops. Andrey is then injured at the Battle of Austerlitz and presumed dead, until he arrives home to his wife, Lise, who dies during childbirth soon after. Pierre, meanwhile, has married Helene Kuragina. She is unfaithful to him, and Pierre duels with the other man, almost killing him. He soon becomes overwhelmed by his marriage and leaves Helene. He joins the Freemasons, which influences his personal and business fortunes greatly. In the meantime Nikolay has racked up a large amount of gambling debt, which causes the Rostov family to lose most of their fortune. He is encouraged to marry a wealthy heiress, despite promising to marry Sonya, his cousin. Nikolay eventually witnesses the peace between Tsar Alexander I and Napoleon (Treaties of Tilsit, signed in 1807). Andrey soon becomes involved with Natasha Rostov only to be told by his father that he must wait a year before marrying her. After some time away, Andrey discovers that Natasha has been unfaithful. He rejects her, and Pierre consoles her, eventually falling in love with her.